News and Updates
Firmware Update for Time Zone Issue
New version of TR610 firmware (5.00.00) is released for conformity to the current AggreGate timestamp mechanism. The timestamp is now unified as UTC time and TR610 can be set to its local time zone for correct time disply. For all AggreGate versions before version 4.50.00, you should still use the older firmware (4.00.01), for all versions after, you should use the latest firmware.
New TR610 Firmware and Manuals
We have just posted a new major version (3.03.00) of the TR610 firmware, along with its source code. This is a major release, bumping TR610 from 2.x to 3.x, and adding a new "white list" feature. The manual has also been extensively updated. Get the files at the Downloads page.
New TR610 Firmware
We have just posted a new version (2.02.05) of the TR610 firmware, along with its source code. It's mainly a bugfix release, with new LCD support and some changes in web login delay. Get it at the Downloads page.
New TR610 Model with Mifare
In addition to the existing TR610R, we have now released the TR610MF equipped with a Mifare proximity reader.
Overview
The TR610 is a simple and easy-to-use Time Recorder. It utilizes RFID technology to allow for quick user registration -- users may not even have to take their employee card out of their wallet to swipe it.
The TR610's bright LCD display and four buttons make for a simple interface with a very low learning curve. Using familiar icons from other GigaTMS products, new users quickly understand how to clock in and clock out. The display also shows the current time, date and memory status.
The display can also be used to configure the device: Using a "Master Card", the Administrator can access the on-screen menu system and change device settings. The menu system is navigated using the four buttons on the device.
Ethernet connectivity makes the TR610 easy to administer remotely.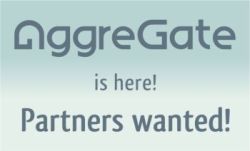 The TR610 comes with an a very versatile software solution called AggreGate Time and Attendance. AggreGate Time and Attendance was developed to dovetail with the TR610 and provide optimal administration and reporting facilities.
Of course, you can always use the TR610's built-in web administration interface, too. It is password-protected, and allows an administrator to remotely manage all device settings and download or search the internal event log.
The TR610 can also automatically synchronize the internal clock with an Internet time server, so that the time is always correct.
System integrators and developers may also be interested to know that the TR610 is internally based on Tibbo BASIC, and its application is open-source and may be obtained freely and customized.
Features
Bright, clear LCD display
Uses RFID (Proximity) technology - 125K (TR610R) and Mifare (TR610MF)
10/100 Base-T Ethernet port
RS232 serial port for connecting external serial devices (such as a barcode scanner)
Two relays to control external loads, such as an electric bell and a turnstile
"White list" functionality for specifying which users trigger relays
Internal flash memory stores approx. 17,500 event log records
Wall-mount or desktop operation (display image orientation may be configured)
Internal backup battery for the real-time clock keeps time accurate for up to 7 days with no external power
Firmware may be upgraded through the network or serial port
Built-in web administration interface ("web admin")
IP address configuration using DHCP
Time/Date synchronization through SNTP (time-zone can be preset)
Works with Tibbo AggreGate
Internal application written in Tibbo BASIC and may be changed or customized
© GigaTMS 2008 Tel: 886-2-26954214 E-mail: promag@gigatms.com.tw